By arzhou | September 11, 2011
Happened to see this recipe in BREW! So I thought I would give it a try, if it turns out nice, will refine it as part of my future line of beers. (Only beer in it is my Rose Beer so far)
Light malt extract x 1
1 kg of light DME
0.5 kg of 2 row pale malt
0.34 kg pf 20L crystal malt
0.34 kg of Carapils malt
28g of cascade hops
Wyyeast 1056 (american Ale) – Substituted with SafaleUS05 due to out of stock
300g of honey (about 1 jar)
30g of basil leaves
Steps:
1) Steep the grains in about 64-66C water for 30 minute, use hot water to rinse the grains afterwards
2) Switch to full boil after that and add in the extracts and DME. Total boil time is 1 hr.
3) While boiling, score the basil leaves, I ended up cutting them up like chopping herbs
4) Last 30 min of boil time, add irish moss
5) Last 10 min, add half the basil leaves
6) Last 5 min add in the honey
7) Turn off the boil and add in the last bunch of basil leaves.
Cool to RTP and pitch yeast, top water to 20L
Finally got to use my wort chiller
OSG = 1.050 FSG = TBA
Fermentation will probably take about 1 week, after which 1 week is used for conditioning. After that, carbonate and age for 2 weeks before serving.
Fermentation start: 3rd Sept 2011
Topics: Beer Brewing, Beer Log | 59 Comments »
By arzhou | January 23, 2011
Finally a chance to use my new equipment, unfortunately wort chiller could not be used as I did not account for the piping size to the hose.
Recipe:
1.       Maris Otter 1kg
2.       DME 1kg
3.       Light Liquid Malt Extract 1.5kg
4.       EK Golding 140g  in 2 separate packs.  First one at 60 min, the other at 0 min
5.       Wyeast 1098
6.       0.5 tsp of Irish moss
Steps:
1) Grains in grain bag, in hot water at 67-68C for 45 min.
2) Add in DME and bring to a rolling boil, first pack of hops. Total boil time is 60 min
3) Last 15 min, add the liquid extract and Irish moss
4) After 60 min, turn off heat and add in last pack of hops.
Unfortunately unexpected stuff happened (i.e. hops bag almost bursting) so I made the following changes:
1) Hops at 60 min was taken out at 45 min and thrown away. The bag was about to burst and i did not want hop pallets all over, its a nightmare to clean up.
2) Threw in the 2nd bag of hops. So there was no 0 min addition. Most likely implication is that there would not be as much aroma as expected.
OSG: 1.050
FSG: 1.012 (WOW i am on the mark for once!)
New equipment!
Topics: Beer Brewing, Beer Log | 133 Comments »
By arzhou | October 17, 2010
Been a while since I did partial mash, so this version is a partial mash with DME and liquid extract. Its an Amber recipe that i got from my usual Brew magazine. Based on the description, I am expecting the beer to turn out fairly malty beer with mild hops as I really added little hops.
Ingredients list:
1kg coopers light DME
1.5kg coopers light liquid malt extract (the generic one)
0.25 kg munich malt
0.25kg carapils malt
0.25kg crystal malt (20°L)
0.17kg of biscuit malt
30g chocolate malt
2 small packs of willamette hops (1/2 oz each)
2 small packs of fuggle hops (1/2 oz each)
Wyeat 1272 (american ale)
Irish moss 1 tsp
The Ingredients

Steps
Steep the grains @ 68C for 30 minutes in about 5L water
Remove grain bag and pour another 1L of water at about 75-77C through the bag and into the brew pot
Bring it to a boil and add in the DME. The entire boil process is 60 min.
Willamette hops (60 min) both packs
Fuggle (20 min) 1 pack
Last 15 min, add in the Irish moss and the liquid extract
After the boil, turn off heat and add in the last pack of fuggle hops (0 min)
Cool, top up water till 20-21L and add in yeast.
OSG: 1.046
FSG: 1.014
Date started: 16th Oct
Ferment for about 1+ week until FSG stabilizes around 1.013. Allow beer to mature for a few weeks (looking at a month at least)
Extra note: I allowed 1 mini-keg to age for over 4 -  6 weeks. The result was that the aging process allowed more flavours to develop, giving the beer a more fruity/sweet taste rather then the bold malty flavours you get when I drank it after 2 weeks of conditioning. Definitely proof of the maillard reaction.
Topics: Beer Brewing, Beer Log | 172 Comments »
By arzhou | September 3, 2010
Appearance: Amber, slightly cloudy (homebrews are usually unfiltered), Rather poor head retention.
Aroma: The is the presence of Saaz hops, in this version it is somewhat mild and earthly, can smell the grassy hops, but its not very distinct. The mini keg that I did dry hopping with was somewhat more distinct.  There appears to be a hint of fruity smell as well, not sure if that is due to the presence of the Chrysanthemum or the fact that the base liquid was a tea affected the overall chemistry.
Flavour: There is a somewhat more prevalent citrus/fruity flavour (most likely esters), I think the malt gives a more bready feel, but overall the citrus taste and the tannic of the tea is more obvious than the malt.
Mouthfeel: Not very good carbonation, but that is fine since it will improve once i pump more CO2 in. Medium body, so its something you can drink on its own. High astringency but that is due to the fact that the base liquid was a tea. The finish is sweet and there is a somewhat slick after taste. (like buttery slick)
Overall: Decent experiment, but this has convinced me i need to work on more basic stuff to really understand brewing science more before i try crazier stuff.
Topics: Beer Brewing, Beer Log | 117 Comments »
By arzhou | September 2, 2010
This is probably the last time for a long while that i will be doing speciality beer, shall be going back to doing more basic standard brews to work on my basic techniques. I thought Pilsner would be a good pairing with flowers for a beer.
Chrysanthemum Pilsner v1.0
OSG = 1.050 (I measured and forgotten, this is was I think it was)
FSG = 1.020
ABV = 3% ++
Ingrediants:
Coopers Pilsner extract x 1 can
Light DME x 1kg
Coopers enhancer 1 x 1kg
Saaz Hops x 2 x 28g
Chrysanthemum flower (dried) x 4 x 500g
Standard brewer yeast
Steps:
1) Boil about 3-4L water in brew pot and throw in the all the flowers and boil for about 30 mins. Scoop up the flowers.
2) Add in DME, enhancer 1 and extract. Begin 60min boil.
3) 30min into boil, add in first pack of hops.
4) After the boil, turn off heat and add in 2nd pack of hops. Stir well.
5) Cool to RTP, add to fermenter, top up to 19L, pitch yeast.
6) Ferment for about 1 week after which it is conditioned for about 2 weeks. (dry hopping is optional, but i think it is a good idea)
Shall post my own self review and critique next post. Waiting for the beer to cool down
Topics: Beer Brewing, Beer Log | 690 Comments »
By arzhou | June 17, 2010
Thank goodness I can STILL use proper english (semi-proper) after so much exposure to twitter, facebook, sms… too much technology is bad for spelling!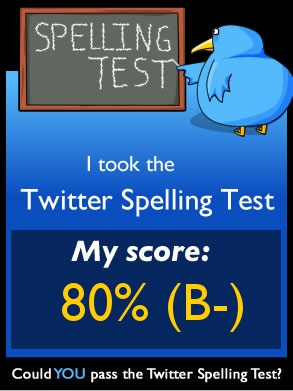 Created by Oatmeal
Topics: Uncategorized | 128 Comments »
By arzhou | June 6, 2010
Just thought I would share some good old photos from my time in Connecticut, I actually took quite a lot of photos but never bothered to upload them:
This was from 350 day where I joined the local greenpeace & "regular protest gang" at the town center of stamford, holding up a piece of cardboard. Honestly I doubt what they did had any effect, since the different signs did not have a clear and definite message for people on the streets. The most common sign they had was "Honk for 350″… I doubt anyone really KNOWS what that meant. Although one of the activists said that "Oh people will be curious and google it", I highly doubt so. I know I wouldn't.
But to that particular experience did show me how ignorant some if not most americans are about the global situation especially on sustainability.  One of the activist was trying to talk to an american on the street about climate change and that american was saying how he will not do anything until China does something. Already a few things were going in the back of my mind. (these are just random rants btw)
1) Why must you even WAIT for China to do something… or wait for anyone else for that matter
2) Oh wait… isn't China already taking the lead in terms of pumping money into clean tech (much more than what the US govt is putting in now even with ARPA-E etc) and they have lots of clean tech policies too?
3) Random angry rants about SUVs guzzling gas, people not realising what they do impacts other people around the globe.. think about the island states that will be underwater soon!
Anyway kudos to those folks for trying to raise awareness, points for effort la… just that the execution might have been better thought through.
Topics: My Life Story, Random Thoughts | 81 Comments »
By arzhou | May 27, 2010
I decided since I am brewing beer, I got to try as much beer as possible to understand them (great excuse to drink!). Hence I am going to keep an online log of all beers I drink.
I will improve my criteria as I keep trying and reading up on beer. Right now I intend to rate the beer according to smell, taste and feel. But my final overall way of rating a beer would be the really simple question "Will you drink this beer again?"
First beer!
***Since this review was originally written, I drank this beer quite a number of times in the USA. That was when i go drinking out in Connecticut with my friend Kevin. (who enjoys boddingtons A LOT)
Name: Boddingtons Draught Bitter (Wiki)
Type: English Bitter
ABV (Alcohol by vol): 3.5%
Smell: Can smell the malt, no distinct hops bouquet.
Colour: Mild Copper/Gold
Taste: Rather mild and straight forward beer, does not really have any complexity at all. Definitely can taste a grassy. Very mildly bitter. There is a slight bitter aftertaste, but it does not really last very long. No distinct hops flavour.
Feel: Rather smooth beer, easy to drink.
Head Retention: The foam head lasts really long. Based on multiple personal experieces and observations
Carbonation: Not much, rather flat.
Opinion: Easy to drink, would be good on a hot day. It just goes down so so sooooo smoothly… honestly it is THAT SMOOTH
Rating: Smell - 3/5 Its really nice to smell the sweetness of the malt
Taste - 3/5 Does not stand out, fairly mild and light. Good for those who are not into strong, bold beers.
Feel - 3.5/5 Very smooth, especially with its nice creamy foam head.
Overall Rating: I drank it almost at least once each time i hit the pubs in CT, it never fails me for sure. Its usually a good beer to begin with and its smoothness and rather light taste means its easy to drink it again. Would i drink it again, YES. But usually I would not have 2 boddingtons in a row, i like to switch up my flavours.
Topics: Beer Log | 64 Comments »
By arzhou | May 23, 2010
Today is the state funeral for Dr. Goh Keng Swee, who was one of Singapore's key founding fathers. (full profile: wiki) I did go pay my last respects at parliment house on friday, and it was definitely a time for self-reflection as well.
As I left parliment house and headed back to Raffles City, I kept looking at everything around me, the people, the buildings, the streets, cars etc and realised how sometimes I really take things for granted. Dr. Goh was one of the key people who laid the building blocks for our economy, defence and education. So many things might not even be here if not for him.
R.I.P Sir.
Topics: Analysis and Views, My Life Story, Random Thoughts | 99 Comments »
By arzhou | May 15, 2010
Been a while since I blog, so well I decided to get back at it again (at a slower pace now). So yea, this is the first beer I made since I got back from the USA.
Rose Beer Ver 1.0
Ingrediants
1) Canadian blonde liquid extract
2) 500g light malt DME
3) 2 small packs of saaz hops
4) 1kg of enhancer 1
5) 1 big pack of dried roses for rose tea – get this at Chinese Medicinal shops. I got the ones from France.
6) 1L of Bundung or rose syrup
7) Forgot what yeast I used already…. LOL
Steps
1) Boil up the DME, enhancer + extract in about 4L of water in the brew pot.
2) At the same time, in a seperate pot, boil water for the dried roses to mix Rose Tea – soak the roses for 30+ mins. Drain out the rose petals and add the rose tea into the brew pot.(Total time so far =30 mins)
3) Continue boiling for another 15 minutes before adding in the saaz hops (Total time so far =45 mins)
4) 15 min boil with hops, take hops out, cool the wort down to RTP befor moving it to brew tank.
5) Add 1 L of rose syrup into the wort and top up water to about 20L, throw in the yeast and seal up the tank.
6) Ferment for about 7 days before moving to kegs for secondary fermentation which is about another 1 week.
OSG = 150
FSG = 120
Oh yea, I usually prep my yeast before hand, leave them in a bowl with warm sugar water for 30 mins. Remember to cover the bowl with plastic wrap.
Topics: Beer Brewing, Beer Log | 64 Comments »
« Previous Entries